In case you want to check out the action, head on over to Full Tilt Poker to see some high stakes fast-paced heads up action. Patrik Antonius and durrrr are currently battling on four tables of 200/400 PLO.
EDIT:
2:10 PM EST on Saturday Feb 21st, they've paused play again. The following chat appeared as they quit:
durrrr: k gotta get rdy
Patrik Antonius: k
durrrr: cya in an hour or so
durrrr: prolly a little more
Patrik Antonius: one hour from now?
Patrik Antonius: i gotta go to bed in two hours
Patrik Antonius: eat fast please 😉
durrrr: ahh w/e np
durrrr: haha
It appears that we may see a little more action today, but probably not much. According to a post on 2p2, durrrr says that he was up another $35,000 or so:
+36661.0, i think 105 hands but not sure on the hand count, ha tables mightv counted for it.
Here's a screenshot of the last hand of the day (won by Patrik Antonius):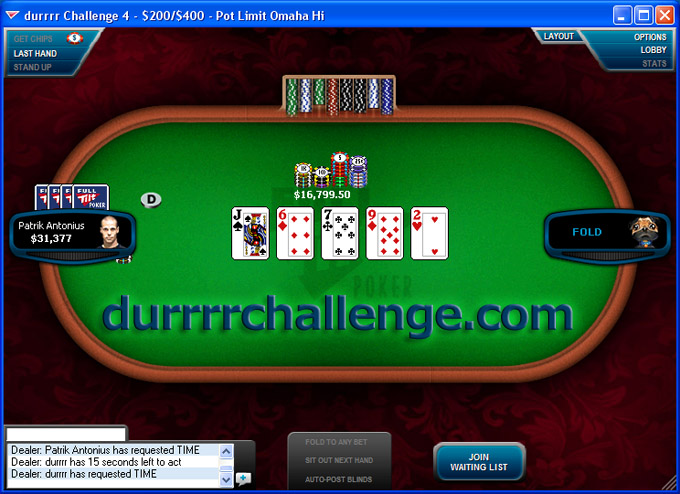 We'll be back with a summary of today's action in a few minutes.