After a nearly four-month long hiatus from Twitter, poker, and anything else that would identify where he's been, Tom Dwan's girlfriend Tweeted three days ago that the couple is in Sydney, Australia on vacation, which just happens to be a two-day drive to Melbourne, where the Aussie Millions tournament is going on at the Crown Casino. The Aussie Millions Main Event Day 1 will begin on Sunday at 12:30, but right now it is still just speculation that Dwan may be about to make his poker comeback.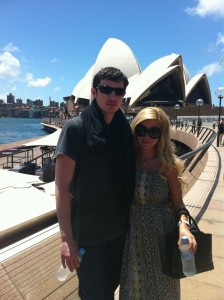 Still under contract with Full Tilt Poker, no one has heard from Dwan since September of last year when he Tweeted, "'Had a really busy last few days, leaving la now- maybe back here soon."
Also posted were some pics of Dwan in Australia, one of him and his gf in front of the Sydney Opera House and one of him snuggling with a koala bear, which may lead some to believe he is en route to Melbourne, stopping at one of the many koala bear sanctuaries located on the road from Sydney to Melbourne.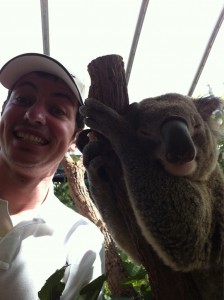 The Aussie Millions Main Event is a $10,600 buy-in No Limit Hold 'em event that will start each registrant out with a 30,000 stack. Play will move to 8-handed as soon as possible on Day 1 and will stay that way until 36 players remain when it will move to 6-handed. Levels will go up every 90 minutes on Day 1 and Day 2 and move to 120 minutes on Day 3 through the final table.
Twenty-five-year-old Dwan may have been off the radar for a few months, but he's not the type to quit poker, so his fans needn't worry. With more than $2 million in tournament earnings including six WSOP cashes, he'll be back sooner than later.
Still no further word on the Durrrr Challenge, but again, don't be too quick to doubt Dwan. He's never been one to stay hushed.