In a 1000+ hand session on Monday afternoon, Patrik and durrrr battled once again, this time playing around 1000 hands. Dwan managed to book a $206k win, leaving him up around $150k for the challenge after approximately 4,000 hands. If you'd like to see some of the biggest hands from Monday's session, you can view our live blog post here.
Here is durrrr's graph from the session: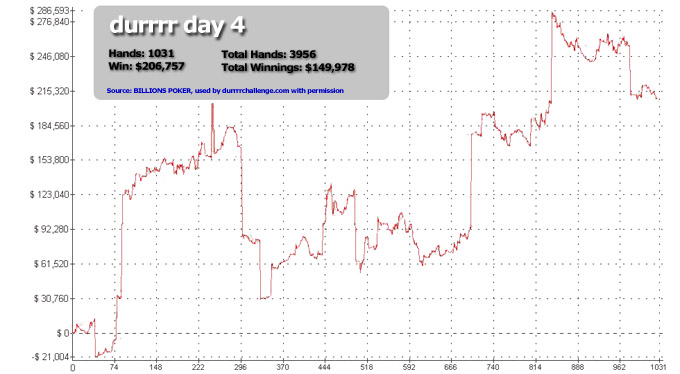 The session ended due to Dwan's desire to go to the gym. It's unclear if play will resume this evening but the assumption on our part is that play is over for the day. With the challenge now around 8% in the books, it's starting to become clear that this has the signs of a back and forth battle that will likely be up in the air until the very end. Both player seem eager to continue the challenge, so we expect a lot more action this week.
Stay turned for a big promotion announcement tomorrow. Also expect some analysis to be posted this week — we plan on having top players review the biggest hands so far.